Friday, September 30, 2011
September 30, 2011
|
|
Blogs
Hello all! Well yesterday was my very last chemotherapy treatment. #6 of 6 now complete. I will now spend the next 2-3 weeks recovering from this one. For many reasons I hope and pray to never have to go through chemotherapy again. The nurses yesterday gave me a graduation certificate to celebrate! I wore a purple boa to celebrate! It still hasn't hit me yet that I am done.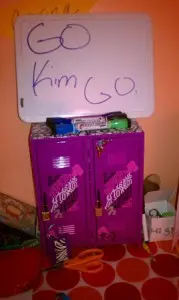 After coming home yesterday from my treatment I found a welcome home party in our garage. Our house had turned into a rainbow! There were tons of balloons all lined up in rainbow colors on our porch. There were plastic cloths draped on our garage door with all the colors of the rainbow. There were the purple pinwheels and also this time tons of small rainbow pinwheels. I got to walk down the purple carpet leading to our front door that had a sign that read "Congratulations on being a chemo grad! Love, Kim's Crew." But the most fun of all was that party in my garage. My friends and parents were all in there waiting for me to arrive so we could celebrate! I couldn't believe it but my kids got out of school early to attend my celebration. Needless to say they were very excited. Other kids were there too and my good friend Anne who moved away over the summer was in my garage celebrating right along with me. I was so touched. Mishelle made some awesome rainbow colored cupcakes! Poonam decorated the inside with a rainbow lantern and purple star. It was a really great afternoon! I have posted pics of the party in the photo gallery so you can see.
During the last 7 days so many of my friends and family spotted real rainbows in the sky. I have posted many of these today in my photo gallery. I never found my own rainbow until yesterday when I took a picture of the outside decorations and a rainbow appeared on the picture after I went back through to look through the pictures. (This picture is the first one in my photo galley.) Thank you God for the sign.
Last weekend Carina and Delany Collins organized purple day at Ansley's Irish Dancing class. All the dancers were wearing purple in honor of celebrating my last chemo treatment. Once again I was so touched I cried. The girls made a Flower Power poster and all the Irish dancers signed it for me. Ansley will get to keep it in her room once we are done enjoying it down here.
In about a half an hour I will go get my last White Blood count booster shot. Yes! Other than that I just need to power though these next several weeks until I gain my strength back. Last treatment it took me 2.5 weeks to recover and the doctor says this one will be worse.
I am still scheduled for surgery on Thursday, October 20 to have my port catheter removed from my chest wall. They fed me the chemo drugs, iron drips, and withdrew blood from my port. I will ask my surgeon to save it for me once he removes it. It will go in my bin of momentos that I will keep.
That is it for now. Thank you all for your continued prayers and special notes. I shall be back to myself feeling a lot better in six weeks. My doctor says the fatigue from radiation will be nothing campared to what I have experienced with the chemotherapy. I start radiation on Monday, Oct 24.
Love,
Kim