Sunday, November 27, 2011
November 27, 2011
|
|
Blogs
Hi friends and family,
I hope you all are doing well and had a wonderful Thanksgiving weekend. Mine was so great as I got to spend it with my family. It is hard to believe that my cancer treatments are coming to an end. I can now count on just two hands how many days I have left with radiation. That's right, after months and months and months of treatments I now only have 10 days left!!! I have completed 23 days of radiation so far and will go to radiation five days this week and then five days the following week finishing my last radiation treatment on Friday, Dec 9!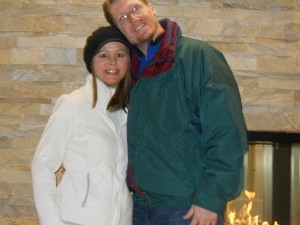 The radiation is going well. I did have some pretty bad reactions to the radiation on my skin and my doctor even had to adjust my schedule to give my skin a few days off because it got so bad. I even had to treat some of the areas with burn cremes that they give patients who have second and third degree burns. I am not going to complain though as I know this is just temporary and my skin should hopefully return to normal at some point.
I am still doing really great. My Mom is back in town to help out which is really great. The new drug I have been taking since the start of radiation (Tamoxifen) has been giving me hot flashes which can be annoying but I just power through them and they pass pretty quickly. I am still waiting for my eye lashes to return. What is taking so long? I was told the eye lashes are the last to fall out and the first to come back. Up until last week they were still falling out! The hair on my head continues to grow really fast although the color is more gray than I would like to see. Emotionally I am doing great and am loving being involved in life again. I really do appreciate every bit of everything I get to do.
This weekend I was looking through some old pictures that my Dad had taken the day of my last chemotherapy treatment. There were pictures of my friends setting up the rainbow of balloons out front of my house. There were pictures of them putting up the sign and rainbow colors on our garage door. I had never seen these pictures before until this weekend. I noticed in the pictures how happy they all looked. It made me so happy to see those pictures and the fun they were having before I arrived home that day. For ALL of my friends and family: I know I have said this before but thank you to each and every one of you who didn't ignore me and asked me how I was doing, or told me you were praying for me, or emailed me when you saw some concerning Facebook posts from me early on, or dropped off a meal for our family, or sent me a card to say hi, or gave me beautiful flowers, or just said hi as we passed on the street. I will forever be grateful for you.
My purple & pink pinwheel flower is still in our front yard and is still spinning and spinning and spinning. That flower has never given up and has always meant so much to me. I look at it every day. I told my friend (who gave it to me right after I was diagnosed) that I will take my pinwheel down on Friday, Dec 9, my final day of radiation treatment. I am sure I will shed a tear as I celebrate!
Lastly, I wanted you to know that I have added 7 new pictures to my photo gallery. One of the pictures is a picture of my radiation machine for those wondering what a radiation machine looks like. Another picture is the Cancer Center decorated for Christmas. It truly is the most wonderful time of the year!
Love,
Kim