Wow, today was tough. It started this morning while taking my shower and my hair was just falling out of my head. Then after my shower I brushed my hair and it was just awful how much of my hair once again came out of my head. After getting dressed I kept shedding all the way to the boutique where I received my new wig. The good thing about getting my head shaved today? No more shedding!!! It feels wonderful to no longer be tortured with my hair just sliding off of my head in large number of strands.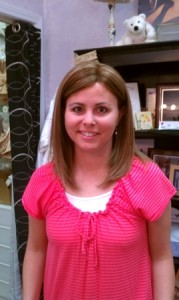 At the boutique the hair dresser, Aimee, wasted no time and as soon as I sat down she right away shaved my head. I think she usually faces women with their back to the mirror but I told her I wanted to watch. I wanted to see my head shaved and oh my goodness, it was awful. I cried. I am glad I watched though as I wouldn't have wanted to miss it. When she shaved off the last bit I cried and cried and I said how awful I looked. In my mind I looked so scary. My friends Melanie and Anne who were with me told me how beautiful I looked. They are such true friends.
It took the lady about 2 minutes to shave my head. Melanie and Anne collected my hair and put the hair in two separate zip lock bags. One for Jacob and one for Ansley. Wouldn't you know both kids are sleeping with their Mommy's hair tonight snuggled close to them.
As soon as Aimee was done shaving my head she immediately put on my new "real hair" wig. She then cut and styled it. It's a little lighter in color than I am used to but I really like it. It looks real. I couldn't wait to take it off tonight though as it was beginning to itch a little and my scalp is sensitive from the chemo. I cried again when I took it off tonight when I showed Allen. Allen hugged me as he saw how hard it was for me. My kids aren't ready to see me bald yet. I told them when they are ready to let me know. It will take them some time just like it is taking me time. At home this evening I am wearing a bed cap and they were totally fine seeing me in this. They kept telling me how much they loved me just like they do every night.
I have posted some new pictures of my new wig on my care page photo gallery. When I am brave enough maybe I will post pictures of me in my bed cap but I will probably never post of picture of me bald. This is personal.
Thank you to everyone for your well wishes and for thinking of me today. I cannot believe the amount of support I continue to receive and the cards I receive and virtual messages too. You all are amazing and so selfless. Thank you for making this world a better place.
Love,
Kim