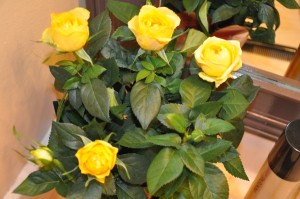 I am home recovering well. After spending the first night home without much sleep because I was in pain, I made sure last night I took the maximum amount of painkiller meds. I slept so good last night. I am surprised by my back pain. They must have shifted me around a lot during surgery. I took the ace bandage off last night. I have to tell you the doctor did a pretty good job. Today my goal is to take a shower. I am tired of smelling like the hospital. Allen and Jacob picked me out a chair to sit in. I am a wimp when it comes to pain and don't want to pass out in the shower.
Thank you to everyone who has brought by or sent flowers, balloons, food, cards, etc. Believe me, it helps me so much to know there are so many people cheering me on. The Facebook profile purple flowers have touched me so much. It makes me feel that I am not alone.
I hope everyone has a great weekend!!!
Love,
Kim